Structural Cabling Systems, which will be used in the infrastructure of the communication systems of the relevant building as well as today, are one of the most critical factor in a project.
In Structured Cabling systems, the most important points in order for the installed system to provide lossless and uninterrupted service for many years; An accurate project that meets international standards is to choose suitable products that will ensure lossless and high accuracy transmission of data signals, and finalization is done by expert and certified technical teams in the field.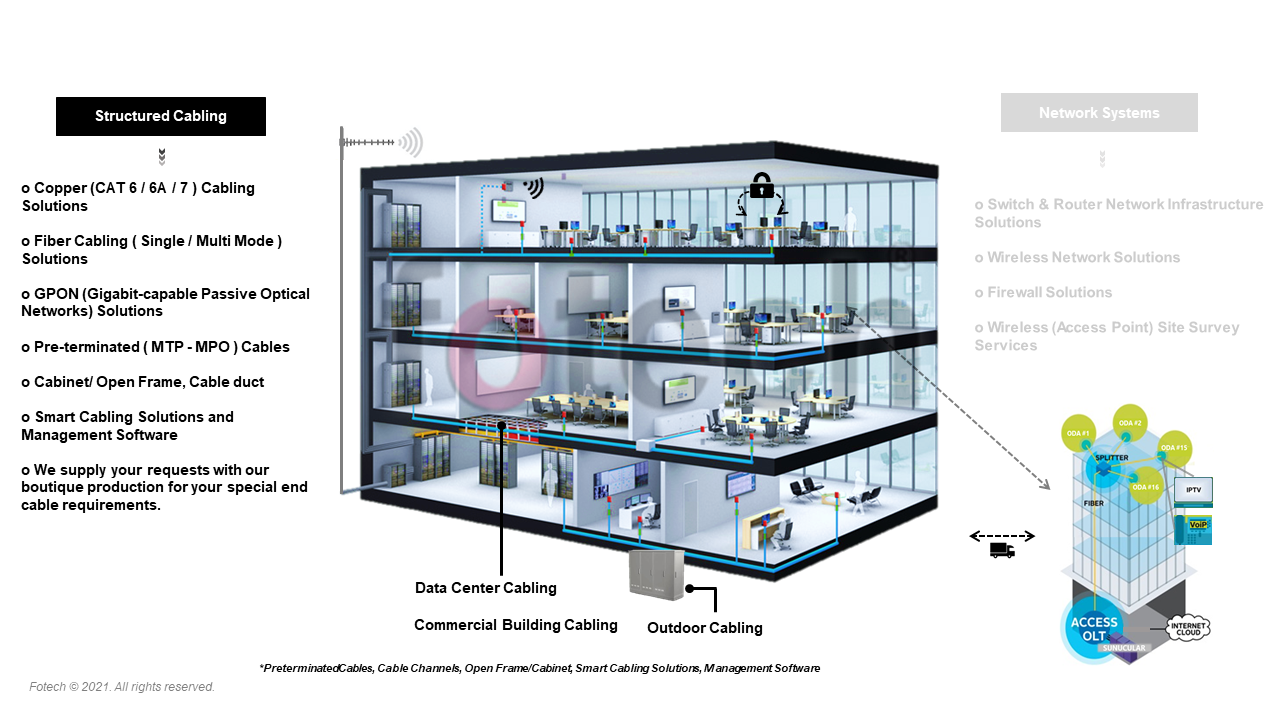 We offer solutions regarding Structured Cabling Systems, one of the major areas we've been focusing on since 1989, and with our expert and experienced team we also meet your special cable requirements with our make-to-order production services.
Detailed activities that Fotech serves in Structured Cabling field are
Copper (CAT 6 / 6A / 7 ) Cabling Solutions

Fiber Cabling ( Single / Multi Mode ) Solutions

GPON (Gigabit-capable Passive Optical Networks) Solutions

Pre-terminated ( MTP - MPO ) Cables

Cabinet/ Open Frame, Cable duct

Smart Cabling Solutions and Management Software

We supply your requests with our boutique production for your special end cable requirements.
After the installation of Structured Cabling System Copper (IL, RL, NEXT, ACR, TCL) and F / O cables tests (OTDR, OLTS CD-PMD, OSA) : as Authorized Distributor and Service Center in Turkey that we have, we provide the global manufactures of test and measurement equipment.