SFP Technology

When Gigabit Ethernet (GE) became available in 1999, it gradually replaced Fast Ethernet (FE) in wired local networks because of its noticeably faster speed. The transmission hardware used to connect GE powered devices includes the compact Small-Form Factor Pluggable (SFP) module.
These modules allow companies with network infrastructure to switch to Gigabit Ethernet quickly and easily. In network structures with multiple infrastructure equipment, you can reach higher data rates with fiber optic cables to be installed between SFPs, without the need for additional investment.
Optical transceiver modules are commonly used to connect to network devices that require them in fiber optic connections, such as NICs (network interface cards) and media converters.
SFP modules, which have been the most important power of the data communication industry for more than 15 years; What should be considered in choosing SFP module and its types, application areas will be examined in this article.
What is SFP module?

Small form-factor pluggable or also known as mini GBIC (gigabit interface converter): It is an easy-to-install transceiver module used in both communication and data communication applications.
The SFP port is compatible with both optical modules and copper cables, so it was developed and supported by most network component vendors.
SFP module; It also supports SONET, Gigabit Ethernet, Fiber Channel and other communication standards. SFP is often called mini GBIC (Gigabit Interface Converter). Because it is smaller in size and has replaced GBIC modules in most 1Gb applications.
What are the types of SFP modules?

These opto-electronic modules allow data transfer over copper and fiber cables. Allowing data rates from 100 Mbps to 400 Gbps; Models such as QSFP, QSFP-DD, QSFP56, QSFP28, QSFP +, CSFP, SFP, SFP28, XFP, SFP +, CFP4, CFP2, CFP, X2 and XENPAK are available.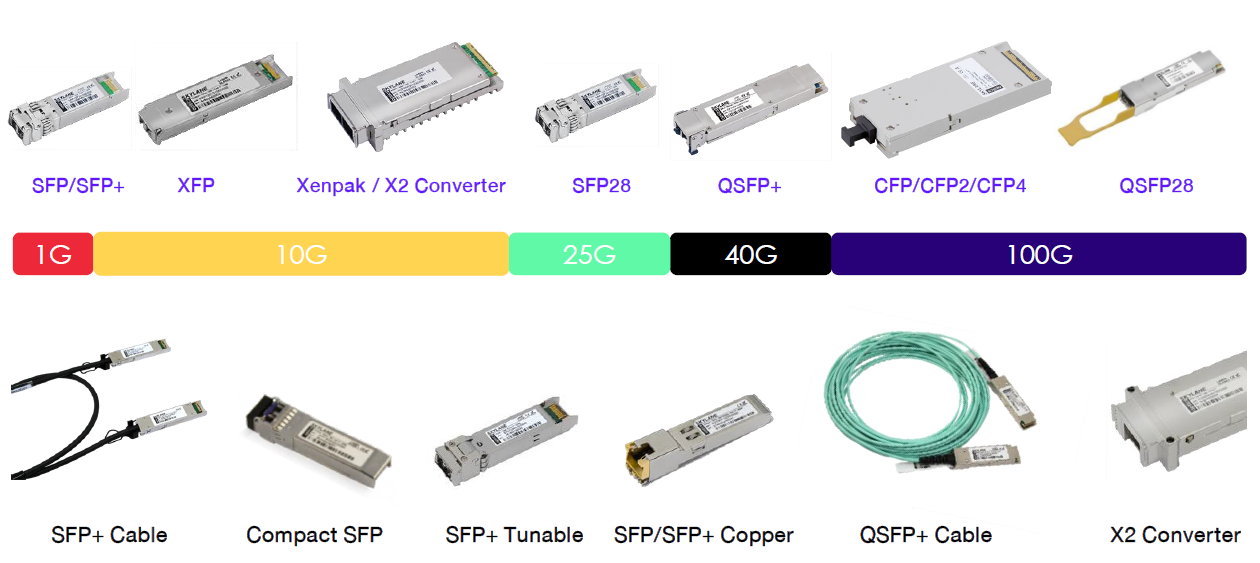 SFP modules have developed in line with technological advances, SFP +, SFP28 etc. models are also produced. For example: SFP + is in the same form, supports speeds up to 10 Gbps, and generally operates at shorter distances. SFP + ports are generally compatible with SFP modules, but vice versa. SFP + cannot run at speeds slower than 1 Gbps.

QSFP; QSFP +, QSFP23, QSFP56, QSFP-DD etc. It is another transceiver module with models that supports Ethernet, InfiniBand, SONET and all fiber channels. The main difference between QSFP and SFP is the quad form. QSFP can achieve speeds of up to 400 Gbps using four transmission and reception channels. QSFP and its varieties are a suitable solution for systems that require high bandwidth.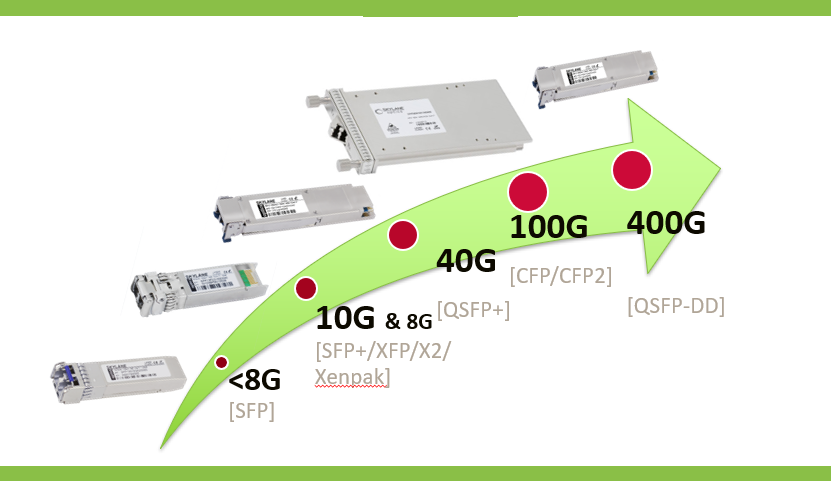 SFP Modules in Copper Cabling

The copper SFP has an RJ45 connector interface that provides up to 1000Mbps communication over Cat5 unshielded twisted-pair copper cable up to 100m long.
The 1000BASE-T (IEEE 802.3ab) transceiver is a copper SFP that can transmit Gigabit Ethernet over twisted pair cable at 1.25 Gb / s data rate. Users can use Gigabit Ethernet with an innovative technology in their existing copper cabling infrastructures.
SFP Modules in Fiber Optic Cabling

For SFP transceivers operating over fiber optic cables, they can be divided into different types according to fiber types. There are unidirectional (simplex) SFP and duplex (duplex) SFP, as well as single-mode SFP and multi-mode SFP. Different SFP models are available for distances from 100 meters to 160 km.

SFP Fiber Module and SFP Copper Module Comparison


SFP Application Areas

Although it has a wide application area:
For copper modules, the most common use is to combine network switches. They provide fast copper connections without requiring much equipment in the network infrastructure.
It covers every technological application in the field of fiber optics, which may involve high speed and / or long range cables. High-bandwidth voice transmission and reception, passive optical networks (PON), multi and unidirectional network, FTTx networks, Security Camera Systems, Smart City Applications and Data Center applications are some of the most common usage areas of these modules.
Target applications, FTTH, Base Station (3G SFP CPR / 6G SFP + CPRI), Fiber channel (4G SFP / 8G SFP +) and Ethernet systems (different forms SFP, XFP, SFP +, X2, XENPAK, QSFP CFP, QSFP28 with 100Mbps' up to 400Gbps)
The variety of SFP modules makes it possible to provide a suitable solution for these and similar applications in terms of cost, speed, range and performance.
What should be considered when choosing SFP?
Compatibility
When buying SFP module, brand compatibility is the parameter that users care most about. You can contact us about whether the SFP module you have chosen is compatible with your devices.
Skylane Optics SFP modules are compatible with more than 100 manufacturers.
Allied Telesis, Arista, Brocade, Cisco, Commscope, Dell, ECI, Extreme, Ericsson, Generic, HP-Procurve, Huawei, Ixia_Net Optics, Netinsight, PacketLight, Waystream-PacketFront, ZTE, etc. Additionally, SFP module programming service is provided according to special demands.
New and used condition
There are both new and used SFP modules on the market. Often used SFP module may have scratches on its appearance and optical port, which is the basic method to distinguish it from it. It is also another way to test the optical power and compare the test result with the data in the technical document.
Price
Skylane Optics SFP is more cost effective compared to other brand SFP modules. Under normal circumstances, there is no difference in performance between compatible 1G SFP and OEM SFP modules, except for the price. This is why compatible SFP modules are popular in the market.
Temperature Stability
SFP module is mostly used in data centers or switches where temperature can be in a wide range. Too high or low temperature can affect optical power and optical sensitivity. Therefore, temperature stability is an important factor to ensure the normal operation of the SFP module.
Quality Documents and Certifications
The quality certificates and production certificates of the SFP module manufacturer are an important element for selection.
Skylane Optics® works directly with leading certification institutes (BST, CE, IEC, IEEE, RoHS, TÜVRheinland, TÜV SÜD, REACH, Telcordia GR468) to ensure that transceivers are safe and have minimal impact on the environment. MSA realizes its compliance with ITU-T and IEEE standards in its own facilities with the advantage of having Europe's only optical test laboratory. Click for detailed information.
Choose brands that have software and hardware control over all SFP modules and can get technical support for each application.
For more information about SFP modules, you can check FOTECH's SFP product category.